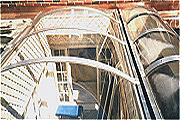 If you are located in the Toronto area and are having problems with your commercial or residential skylights, Aluplex are the people to call for the job. With over 30 years of skylights repair experience, we understand practically every skylight problem you can throw at us, and can solve them without hesitation. But if you need emergency skylights repair, what exactly should you be looking for? What service should the provider offer? Well, our experience has allowed us to understand customer needs, driving us to provide top quality service to ensure that your skylight repairs are completed immediately, are of the highest quality, and fall in line with insurance company policies.
Why You Should Choose Our Emergency Skylights Repair Service
Here is how we ensure that we give better emergency skylights repair service than any of our competition in the Toronto area: At Aluplex, we provide emergency skylights repairs for all type of acrylic or glass skylights. We understand that if you have an issue with your skylight, it must be fixed immediately to avoid more damage to both the skylight and the contents of your home. Equally, we understand the need for urgency to ensure security and to prevent energy loss within your home. That said, if you're in the Toronto area, you can call us any time of the day or night and we'll be straight there to fix your skylight problems.
We Work in All Conditions
We understand that leaks tend to occur only in bad weather and that's also the most important time for them to be fixed. You can't wait on a leak or it will destroy your home and possessions. This is why we guarantee that we will be straight with you with emergency skylights repair solutions, no matter the weather.
Our Method is Fail-Safe
At Aluplex, we use the most innovative technology in order to solve the problems you're having with your residential or commercial skylights. We can trace the source of your leak in order to determine a method to fix it. We can head straight to the source of pain, providing you with a solution almost instantly. Once we have found the leak, depending on your skylights installation, we will either find a permanent fix immediately, or provide a temporary fix until we return the following day with the materials and tools we need to make a permanent repair.
We Safeguard You
We are proud to be a customer oriented service and we understand that accidents happen. If you need emergency skylights repair, do not hesitate to contact us on (416) 665-4482, no matter what the weather conditions are like. We're here to make sure that your commercial or residential skylights are performing correctly and to protect your property against water damage.
Contact us today for your emergency skylights repair