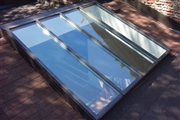 At Aluplex, we provide so much more than just a range of high quality glass skylights; we provide the whole package. We're proud to say that we have over 30 years of experience in manufacturing and installing skylights and carrying out skylights repairs, allowing us to provide exceptional service and cater for your every need. Not only is our range of skylights carefully designed by a team of highly qualified engineers, our expertise also run into the domains of consultation, installation, and aftercare. Our process is comprehensive and efficient in order to leave all of our customers feeling like they've had the best skylight experience in Toronto.
How We Can Provide You With Your Ideal Glass Skylights
Our comprehensive step by step process, from beginning to end is designed to ensure that we've covered all of your requirements.
Consultation
If you're planning on skylights installation or you fancy the idea of glass skylights, we are happy to give you a free consultation. This requires you to answer a few simple questions regarding your requirements and your current roofing situation. This allows us to understand which type of skylight you're looking for and the installation method that we would need to employ. From there, we can view your property to determine how best to proceed.
Assessment of Property
By coming out to view your property, we can better gauge your needs and current situation. By allowing us to measure up and view the area, we can make helpful suggestions regarding the optimum size that your glass skylights should be and their positioning to gain the most amount of light into the desired room.
Our Customizable Range
All of our glass skylights are customizable in size in order to fit the design style that you're going for in the room, whether it be an installation of residential skylights or commercial skylights. Our comprehensive range gives your various choices in terms of shape, functionality and aesthetic design.
Skylights Installation
We try to ensure the installation process of your glass skylights is as painless as possible. We work at maximum speed in order to ensure that we do not leave any part of your roof exposed for long periods of time. However, with our 30 years of experience, we understand the importance of secure skylights installation, and therefore guarantee that our installation is leak-proof and of the highest quality.
Aftercare
Our aftercare services are there to ensure that you are completely satisfied with the finished product. We provide a five year warranty on all of our glass skylights and skylights installations. If you have any questions about our skylights or the installation process, do not hesitate to call us on (416) 665-4482. We're happy to provide you with any details to make the process easier for you.
Contact us for your Glass Skylight questions