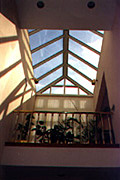 At Aluplex we have over 30 years of experience installing skylights in the Toronto area. Due to this, our skylights installation process is of the highest quality and completely efficient. Coupled with our five year guarantee on workmanship, we can avidly assure you that we provide the most exceptional skylights installation service. If you're worrying about the length of time or the actual process of installation, there's no need. Our procedure is swift and effective, and we'll have our beautiful glass skylights installed at your property in no time.
How Does Our Skylights Installation Process Work?
Consultation and Decisions
Our first step in the installation process is deciding which residential skylights or commercial skylights best suit your needs. We first lead with a conversational consultation, addressing your preferences and requirements, followed by a property assessment. By doing this, we can determine which skylights are best for you and what you require at your property. We can determine both the right sizing and positioning to ensure optimum satisfaction with the finished product. Ultimately, during this "investigation," we will present a series of options from our range of skylights, which will allow you to decide which design is most pleasing.
Glazing Choice
After choosing which skylights you consider to be perfect for your property, we will move on to glazing choices. Single glazing is the basic option, which enables you to enjoy an influx of light. However, double glazing offer sound reduction and insulation due to the air space between the glazing plates. This process involves understanding what you want to achieve from your skylights installation. If you would like to reduce heat output and cancel out noise from rain and wind, double glazing is a more sensible choice.
The Installation Process
Once you are fully clear on which type of skylights you would like installed, we can begin the skylights installation process. This involves cutting the required size opening for the skylight, reinforcing the roof framing installation insulation, vapour barrier and drywall if applicable. mounting the curb (if applicable), fitting the skylight, and sealing the flashing. This whole process should take between 1 -5 days depending scope. We work efficiently and quickly, whilst still ensuring that all safety procedures are adhered to. We finish the process by water testing the product to ensure that your skylights are entirely leak-proof. If you have any questions regarding the skylights installation process or would like to speak to one of our experts regarding an installation at your property, contact us today on (416) 665-4482. We're always here to help explain the whole procedure in as much detail as you need!
Contact us today for your Skylights Installation