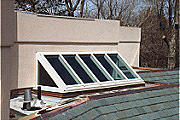 Are you considering installing windows in your roof? Would you like to have an influx of natural light? Skylights are the perfect answer to this and our huge range of roof windows manufacture options give you the choice that you need to ensure that you have exactly what you're looking for in your home or commercial property. After 30 years of skylights installation and repair experience in and around Toronto, we at Aluplex understand the demand for high quality glass skylights in your home or your commercial space. Due to this, we have expertly engineered a line of roof windows manufacture options that are customisable to your specific needs.
Slanted Roof Windows Manufacture Options
Most commonly associated with residential skylights, we provide a comprehensive range of roof windows for slanted roofs.
Flat Double Glazed Skylight
Our flat double glazed skylights are fixed permanently to the roof. Predominantly suitable for those looking to increase light within their home, these glass skylights do not open. However, their sophisticated technology allows light to stream into the room without compromising room temperature through loss of heat.
Low Rise Dome Skylight
Our low rise dome skylights have a slim line appearance. Functioning similarly to our flat skylights, these have a more aesthetically pleasing finish. The slight dome allows the sunlight to be reflected around the room at wider beam angles.
High Rise Dome Skylights
Our high rise dome glass skylights are raised more significantly than the low rise, creating even more reflection throughout the room. This roof window manufacture option doubles up on functionality as it opens, since it allows improved ventilation throughout the room. The high skylights installation standards that we maintain mean that there is no danger of moisture leaking through when it is closed.
Flat Roof Windows Manufacture Options
For those looking for flat roof skylights installation, whether they be residential or commercial skylights, we have an impressive range of customisable options for you to select from.
Dome Cluster Skylights
This cluster of domed skylights sits flat on the roof of a building. It provides a strong block of natural light, reducing the need for costly artificial lighting. These are most effective in large spaces such as hotel lobbies, entranceways or other access ways.
Continuous Dome Skylights
Our continuously domed glass skylights are the ideal roof windows manufacture option for elongated areas that need a long strip of lighting. Providing a runway of natural light, these continuous domes create an unbreakable stream of light to brighten even the dimmest corridors, hallways or spaces which are traditionally hard to reach for sunlight.
Pyramid Skylights
Our pyramid skylights have a similar function to dome skylights. Best installed in clusters, they have the advantage of a sleek, modern finish owing to their angular aesthetics.
Hatch Skylights
The hatch skylight is an extremely functional option for roof skylights. It will stay open at a 90 degree angle, providing roof access as well as ventilation. If you are interested in speaking to one of our experts in Toronto about our comprehensive range of roof windows manufacture options, call us today on (416) 665-4482.