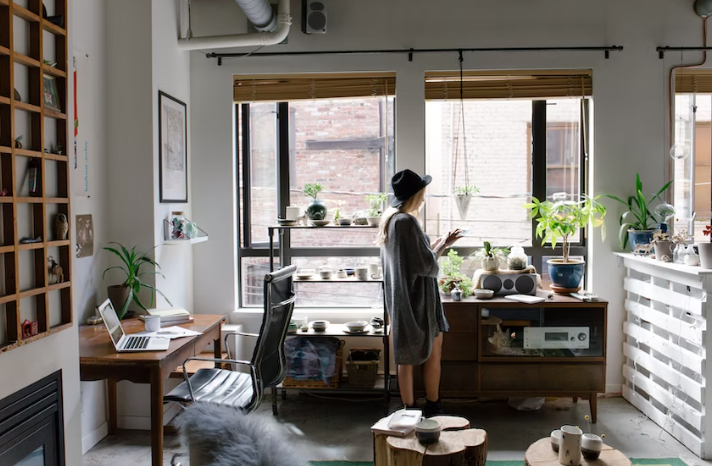 Windows are not just functional elements in a home; they also play a crucial role in defining a home's character and ambiance. When it comes to window treatments, you have a wide range of options to choose from, and you can get creative to make your home and kitchen window decor truly unique. In this blog, we will explore some unconventional window treatment ideas to infuse character into your living spaces.
1. Vintage Shutters
Give your home a touch of nostalgia by using vintage shutters as window treatments. These weathered wooden or metal panels can add a rustic, shabby chic look to your kitchen window decor. You can use them indoors or outdoors, and they are especially suitable for beach cottages, farmhouses, or homes with a vintage aesthetic.
2. Stained Glass
Stained glass is a timeless and artistic choice for window treatments. It can transform sunlight into a kaleidoscope of colors, creating a mesmerizing and dramatic effect in any room. Whether you opt for traditional, religious motifs or abstract designs, stained glass is sure to add a unique character to your home.
3. Bamboo Blinds
For a natural and earthy feel, bamboo blinds are an excellent choice. These blinds not only provide privacy but also filter soft, diffused light into your space. They work well in tropical-themed rooms or homes with a bohemian touch, adding an exotic and cozy atmosphere.
4. Fabric Canopies
Creating a cozy nook by the window is a great way to add character to your home. Consider installing a fabric canopy above your windows, using billowing curtains in rich colors or patterns. This will not only give your room a unique look but also offer a dreamy, ethereal atmosphere, perfect for reading, relaxing, or daydreaming.
5. Recycled Materials
Embrace eco-friendliness by using recycled materials as window treatments. Old newspapers, magazines, or even repurposed denim can be used to create unique blinds or curtains. Not only will this add character to your home, but it will also reduce your carbon footprint.
6. Indoor Plants
Combine your love for gardening with your window treatments by hanging potted plants in front of your windows. Plants not only provide natural beauty and character but also improve indoor air quality. Opt for cascading plants like ivy or ferns to create a lush, green curtain effect.
7. Bead Curtains
Bead curtains were a staple of 1960s and 1970s interior design, and they are making a comeback. These decorative curtains come in a variety of colors, shapes, and materials, allowing you to find the perfect fit for your home. Bead curtains can create a sense of whimsy, playfulness, and nostalgia in your living space.
8. Hand-Painted Window Art
Transform your windows into works of art by hiring a local artist to hand-paint unique designs or scenes on them. This adds a personalized touch to your home and can become a conversation piece. Choose themes that resonate with your personality or the overall vibe of your home.
Incorporating unique window treatments into your home is an excellent way to infuse character and personality into your living spaces. Whether you opt for vintage shutters, stained glass, or indoor plants, the possibilities are endless. Choose window treatments that resonate with your style and create a home that's uniquely yours. Your windows will not only provide privacy and control over natural light but also become a canvas for your creativity, turning your house into a home with character.