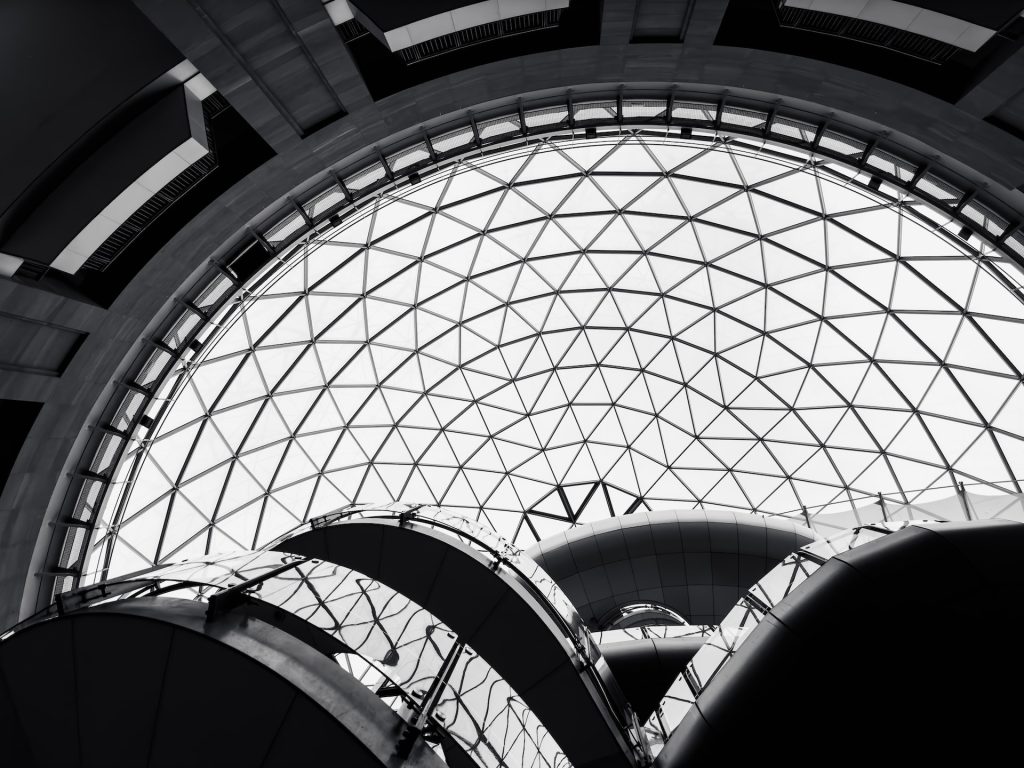 Want your commercial building to stand out from the crowd? One way to accomplish such a feat is by getting a huge skylight installed. However, not just any skylight will do. Lots of buildings have skylights installed. So, what kind of skylight will really make the difference? Domed skylights. Here's why.
Domed Skylights From the Outside
One of the most compelling things about domed skylights is the way they look from the outside. The big, glass dome sticks out above the top of any building and can be seen from a great distance. There's nothing to garner intrigue in your building – whether it be an office, department store, or company headquarters – like a giant, glass dome.
Imagining a glass dome may give you an image of something smooth and globe-like. However, dome skylights aren't smooth like this. It would be nearly impossible to make a dome that large out of one piece of glass. No – instead, domed skylights are made up of many smaller, triangular panels. We consider this a plus. It looks much more appealing to the eye than if it were one piece of glass. Plus, it's easier to repair any damage to one piece. Imagine having to make a whole new skylight if one part of your giant, single-piece dome got cracked! We think the existing method is preferable.
The Interior View
Not only is the exterior view amazing, so is the view from inside the building. Looking up at a domed skylight is breathtaking. Trees that tower above the building seem even taller, the sky looks even bluer, and the clouds look even bigger. Not to mention, the way the light comes in illuminates the entire main portion of the building in a way electric lights couldn't dream of doing. That makes your interior look better while also saving you a whole lot of money on electricity.
High Quality Domed Skylights in Toronto
If you're looking for high quality domed skylights in Toronto, Aluplex has what you're looking for. We've been serving the Toronto area for decades and have probably installed the commercial skylights on some of your favorite local buildings. If you're ready for us to give your building the same treatment, we can do just that.
Domed skylights aren't the only skylights we offer. If you're interested in installing a commercial skylight in your building, but want to see more styles, just check out the photos on our website and see if anything strikes you as more appealing.
Commercial Domed Skylight Installation Services
Aluplex doesn't just sell glass, windows, and skylights; we also install them. If you buy one or more of our commercial skylights, we'll also be installing them for you. Not only that, we also have repair services and will be happy to continue serving you far into the future, should you need it.
If you have any questions about our products, services, or anything else glass related, please don't hesitate to call. We look forward to working with you!