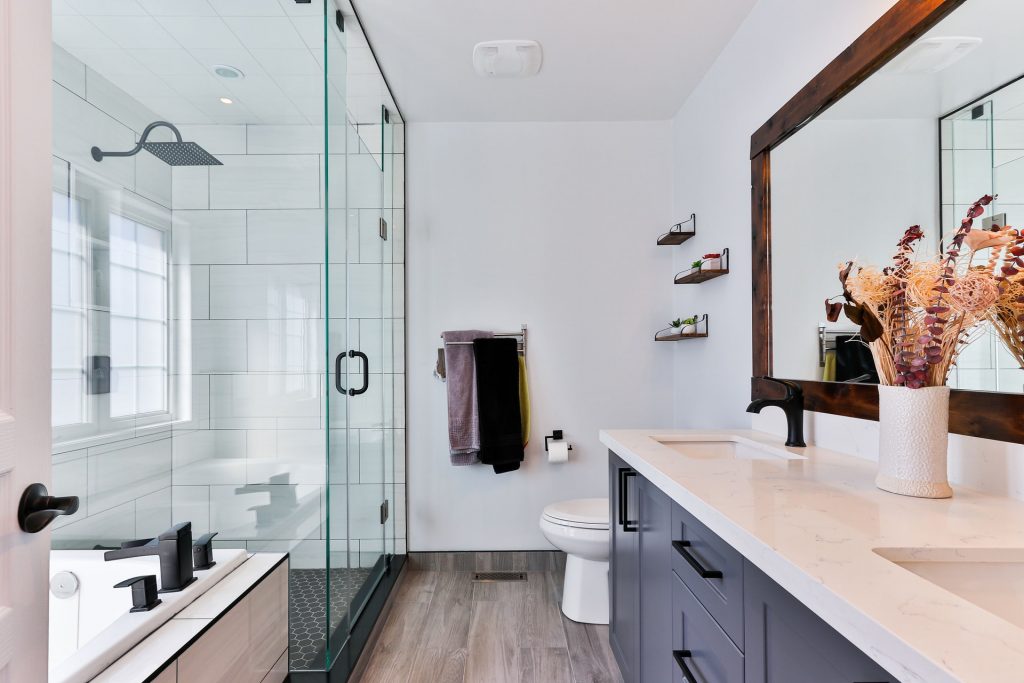 Looking for an update to your bathroom? A built-in, stand-up shower is exactly what you need. Let's take a moment to consider how a built-in shower with one of Aluplex's durable, frameless shower enclosures can change your showering experience.
More Space to Shower
Switching to a built-in shower from a tub/shower combo is a massive difference in experience. While a built-in shower comes with a number of positive changes, the biggest ons is having more space to shower.
While a tub/shower combo allows adequate space for most people, there's not a lot of room for your arms while you clean. This leads to bumping into your curtain or shower door throughout a shower. Or, if you know how to avoid knocking into those, then at least feeling cramped.
When adding a built-in shower, you have the opportunity to give yourself more space to clean. Even if the shower space is shorter than a tub, you can expand its width, creating a square space more suited to your body size. However, what's to stop you from keeping the length of your old tub/shower combo and simply expanding the width as well? Let yourself shower in luxury.
Shower Together
One great bonus to a bigger showering space is that couples can shower together. A tub is hardly wide enough for two adults to comfortably switch places beneath the water. However, with a built-in shower, you can install multiple showerheads or simply use the additional space to switch places with ease. Having room to clean and also enjoy each other's company without stepping on each other's toes is a great experience for many couples.
Ditch the Curtain
Shower curtains come with a number of annoying downsides. When you switch to using durable, frameless shower enclosures from Aluplex, you can say goodbye to these shower curtain issues:
Having to adjust the ends of the curtain each time you shower to keep water from getting out
The bathroom fan's airflow blowing the shower curtain into your space and against you while you're trying to shower
The shower curtain coming unhooked from the curtain hooks
Low light levels when showering from the curtain obscuring it
Having to replace a moldy shower curtain every few months and creating plastic waste
Easy-to-Clean Frameless
Installing one of our durable, frameless shower enclosures comes with a bonus. Even compared to many other shower enclosures, these ones are easier to clean. Why is that? Well, a large number of shower enclosures come with frames around the glass. These metal frames make a shower enclosure cheaper to install, as you can use thinner glass and metal hardware to attach the door. However, the drawback is that they allow ridges for mold and mineral buildup.
A frameless shower enclosure is easy to clean with a standard foaming cleaner and a sponge, brush, or cloth. There are no difficult crevices to scrub at where grime has collected. Plus, that easy-to-clean frameless build makes it easy to keep your shower enclosure sparkly clean, allowing maximum light flow and a great view of the rest of your updated bathroom.
Call us today at Aluplex if you're interested in getting one of our durable frameless shower enclosures and have questions about how to order.