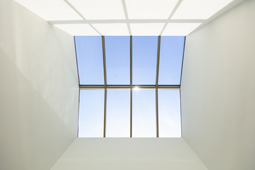 Skylights are an easy solution to many problems. You can save money, help the environment, and improve your mood all by adding a skylight to your home or business. The installation process is easy, and requires very minimum upkeep. With so many options to choose from, you are sure to find a skylight to fit your needs. If you are on the fence about installing a skylight, consider these five benefits:
They Are a Great Source For Natural Light
Obviously, the most important feature of a skylight is the addition of natural light. Skylights let in much more natural light than a traditional window. With sunlight coming in from your ceiling, your body will be able to produce more Vitamin D. Vitamin D helps improve your mood. Therefore, a skylight would be ideal for a home office or gym.
Natural light is also a great way to make a room feel larger and more open. The addition of a skylight can help brighten a dark room, or a room without a window.
They Are Energy Efficient
Natural light isn't just good for you, but it's great for the environment as well! Since you can use natural sunlight as opposed to artificial light, you can help cut down on emissions put out by electric companies.
They Are Cost Efficient
Although a skylight doesn't add to emissions, it can add to your wallet! With less and less need for artificial light, you can save a ton on your electric bill. Natural light and also helps to heat your home during the winter months. There are also some designs with ventilation to aid in cooling during the summer months.
They Can Change the Atmosphere
Adding a skylight at your business can help change the atmosphere. With natural light coming through, your office or workplace will have a better energy and will positively impact the moods of your employees and customers. Your employees are likely to be happier, and more productive when working in natural light. A skylight will also help improve your customers' perception of your business. With natural light flooding your workplace, customers will feel less cramped and have a better mood when visiting your establishment.
There are many business-friendly skylight options. Some options even offer roof access to double in functionality!
There Are a Ton of Options to Choose From
Not only do you have options when it comes to the design of your skylight, but you can choose from different materials as well. Aluplex offers a variety of skylights, from options that blend in with your roofline, to skylights that make a statement, like our Pyramid design, which offers a more modern look.
Whether you're looking to install skylights in your home or are interested in commercial skylights, Aluplex has an option for you. From flat skylights, to domes and pyramids, there is a skylight for everyone's style. You can take advantage of all the benefits our products have to offer. You can make a room appear larger, add natural light, and cut down on your energy costs all with one simple installation.